Welcome to Schroon Lake!
Combining small town character, recreational and cultural opportunities, and unparalleled beautiful scenery, Schroon Lake is YOUR Adirondack destination!
Schroon Lake is the quintessential Adirondack town, with a storied history that spans over 200 years.  In the late 1800's the Village of Schroon became a destination for wealthy families from the NY metropolitan area.  By 1915, after the introduction of automobiles, people from the cities were flocking to the Schroon Lake region.  Renowned resorts such as Taylor's on Schroon (later Scaroon Manor), the Leland House, and the Brown Swan – along with a number of Adirondack Style Lodges – made Schroon Lake a premier summer vacation spot.  This grand history can still be found throughout the Town, and Schroon Lake is still celebrated for its hospitality.
Today, Schroon Lake offers a variety of lodging options, year-round activities and events, with natural resources and assets second to none.  Stroll down Main Street and enjoy shopping, dining and amenities, or head to the Town Beach where you'll find one of the most beautiful and best maintained waterfronts in the Adirondacks.  Our two pristine lakes - Schroon and Paradox - offer excellent boat access, swimming, camping, and fishing.  Surrounded by wilderness, the Schroon Lake Area has a variety of easily accessible hiking trails, ponds, lakes, cross country and downhill skiing, and snowmobile trails.  Schroon Lake is also home to a thriving arts community that includes Seagle Festival, the country's oldest summer voice program.
Your perfect Adirondack vacation is calling…see you in Schroon Lake!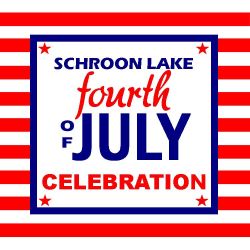 Help support our 66th Annual Fourth of July Celebration! 
    Donate online here.
    Click here for details about this year's Celebration.